Evans family of Merthyr Vale
www.fearhoward.plus.com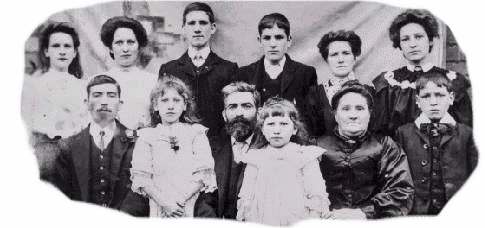 Click on a face
Top Left: Unknown, Margaret (Maggie), Jonathan, Thomas John, Martha, Sarah
Below Left: James, Winifred (Winnie), George (father), Blodwen, Sarah (mother) , William (Likw) Fell in the Great War (bottom right)
Husband: George EVANS Occupation: Colliery Fireman
Birth: 12 Oct 1859 Place: Radnorshire St Harmon The Gates
At The 1891 Census the family were living at 19 Taff St Merthyr Vale
Marriage: Jan 1880 Place: Bwlchasnane Radnor (From IGI)
Wife: Sarah Jane BOUND Birth: 12 May 1860 Place: Montgomery Llandinam Coed Harbour, Montgomery, Wales,
1. F Child: Winifred EVANS Birth: 9 Aug 1898 Place: Merthyr Vale, Mid Glam. Death: 28 Mar 1988 Place: Treherbert Hospital /
Spouse: William Alfred BEVAN (My Grandparents)
2. M Child: George Evans Birth: 1880 Place: Radnorshire St Harmon
3. M Child: JamesEVANS Birth: 1882 Place: Glamorgan Aberdare


4. F Child: Martha A EVANS Birth: 1884 Place: Glamorgan Aberdare
5. M Child: Joseph EVANS Birth: 1887 Place: Glamorgan Aberdare
6. F Child: Sarah Jane EVANS Birth: 14 Jan 1889 Place: Llanwonno Ynys-Y-Bwl, Glamorgan
7. F Child: Margaret Mary EVANS Birth: 4 Apr 1890 Place: Glamorgan Merthyr Vale
8. M Child: William EVANS Birth: 17 Mar 1896 Place: Merthyr Vale, Death: Saturday 23 March 1918 . Place: Near Arras France
Private William EVANS #126900 of the Infantry Machine Gun Corps: fell in the Great War age 23yrs (according to his war record). We think he lied about his age at enlistment. His sister Winifred received news that he was missing in action, having just bourne her first child. His family failed to find him after the war, but he is now known to be buried at Achiet-Le-Grand, Pas de Calais France.
9. M Child: Jonathan EVANS Birth: 5 May 1891 Place: Merthyr Vale
10. M Child: Thomas John EVANS Birth: 27 Oct 1893 Place: Merthyr Vale
11. F Child: Blodwen EVANS Birth: 17 Feb 1895 Place: Merthyr Vale
Unknown This may be a servant: Ann REES as listed in the 1891 census below, or one of six children not identified

---
1891 Census for Merthyr Vale
19 Taff Street
George Evans 31 b. RAD St. Harmon colliery fireman
Sarah Evans 30 b. MGY Llandinam
George Evans 11 b. RAD St. Harmon
James Evans 9 b. GLA Aberdare
Martha A. Evans 7 b. GLA Aberdare
Joseph Evans 4 b. GLA Aberdare
Sarah Evans 3 b. GLA Llanwonno
Margaret Evans 1 b. GLA Merthyr
Ann Rees 14 b. Merthyr servan